About Desert Fish Studios
Desert Fish Studios is a full service Music and Dolby-Atmos/Spatial Audio Music Toronto recording studio and audio production facility, owned by multi-award winner Jeff Wolpert and operated together with Kevin Li.
Located in the historical Urbanspace building at 401 Richmond St West in the heart of the Entertainment District in downtown Toronto, Desert Fish Studios is equipped with the very latest immersive music technology from Dolby, PMC Speakers and Digital Audio Denmark. Their custom designed and Dolby calibrated 9.1.4 control room also has an SSL 24 input console, 24 track analog tape machine and a myriad of vintage and modern analog gear from manufacturers such as Sontec, dBx, Oram, Crookwood, Focusrite, Avalon and others.
Jeff Wolpert – Owner & Chief Engineer
A multi-award winning engineer, mixer, producer, editor, and educator, Wolpert has worked with some of the biggest names in today's music industry in addition to a successful career working in film and television.
A graduate of Concordia University in Montreal (BFA Studio Music), Wolpert went on to earn his Master of Music Degree in Sound Recording (Tonmeister) from McGill University in 1982. Upon graduation, he joined Inception Sound where during his 11 years there, he helped build it from one eight-track studio into two 48-track studios. He then became the chief engineer at McClear Digital Recording and Post Production Studios, a five-studio multi-format recording and mixing facility.
Currently he is the owner and chief engineer of Desert Fish Studios, located in downtown Toronto and opened in 2012. As well he is the Director of the Master of Music in Music Technology and Digital Media program at the University of Toronto. He has 3 JUNO Awards and 8 nominations for Engineer of the Year. Known for his mastery of acoustic recording and intricate mixing, Wolpert is also recognized for his vast technical and computer knowledge.
Kevin Li – Studio Manager & Engineer
Kevin Li is a recording engineer, mixer and producer, as well an independent musician known as Lithium Done.
Before relocated to Toronto and earned his Master of Music Degree in Music Technology and Digital Media from University of Toronto in 2019, Li had collaborated with some of China's most celebrated musicians such as Sa Dingding, Luan Shu and Luo Qi etc., and worked in sound production for films and television as well. He also holds a Master of Arts in Recording Arts degree from China's most recognized sound recording program at Communication University of China.
Specializing in voiceover production and rock music production, Li possesses a wide range of knowledge and skill set in acoustic recording and mixing for all genres of music. He is the 2016 "Sound Academy Awards" winner awarded by China Society of Motion Picture and Television Engineers.
Lawrence Shragge
Film Composer
"I have had the privilege of working with Jeff for… well… over %$#! years. Jeff is an extraordinary engineer with a very musical soul. He has dragged me begrudgingly into a technologically musical world that I have significantly benefited from. I could not have asked for a better musical collaborator."
Loreena McKennitt
Singer-songwriter
"Its been a privilege and a blessing to work with Jeff for over 30 years on a wide range of projects, from studio recordings to live concerts, in extraordinary venues such as the Alhambra in Spain and Royal Albert Hall in London, England. He is thorough, steady, deeply knowledgeable and reliable….and has a great sense of humour. Everything you need in a top class engineer!!"
Jonathan Goldsmith
Composer/Producer
"I have had the great pleasure and privilege of working with Jeff Wolpert and Desert Fish Studios for many years - Jeff records and mixes all of my film scores and album productions. The studio itself is state-of-the-art calibre in every respect, and Jeff brings to each project a lifetime's wealth of knowledge and expertise, along with deep artistic and technical focus, and creative sensibilities of the highest order…"
Roberto Occhipinti
Bassist/Composer
"Desert Fish with Jeff Wolpert has been my go to studio for over 20 years. From Acoustic Jazz trio to large Orchestral recordings, Jeff's musical training and recording expertise, combined with the latest in recording technology make Desert Fish an unsurpassed facility in Toronto."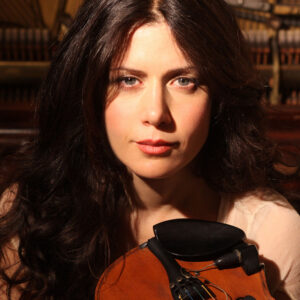 Lili Haydn
Composer/Violinist/Vocalist
"Kevin and Desert Fish were a delight to work with on our remote sessions. Kevin was lightning fast, intuitive, and made everything sound absolutely fantastic! I look forward to working with him and Desert Fish again!"
Fides Krucker
Singer/Producer/Educator
"Recording the audio version of my first book, Reclaiming Calliope, was an excellent experience thanks to Kevin Li. I was nervous but Kevin's kindness and support put me at ease. He is a patient person with superb ears that pick up the smallest detail. Kevin's sensitive feedback helped determine whether or not a 'take' worked and if the emotion was real and balanced. His solutions were always smart and appropriate. Kevin is a deft time manager too! I recorded an album with Jeff Wolpert several years ago and have always been 'over the moon' with my Desert Fish experiences, but recording my first audio book felt especially daunting. Kevin made the process not only possible but, from the feedback I have received, the end result is warm and engaging for the listener. The publishers were also completely satisfied. I am grateful to Kevin and Jeff!"
Scott Goodyer
Project Manager at Secret Location
"The service at Desert Fish has always been reliable and friendly. A hidden recording studio gem nestled in the heart of the city."
Dolby Atmos/Spatial Audio/Sony 360RA
Music Recording, Mixing & Mastering
Film Score Recording & Mixing